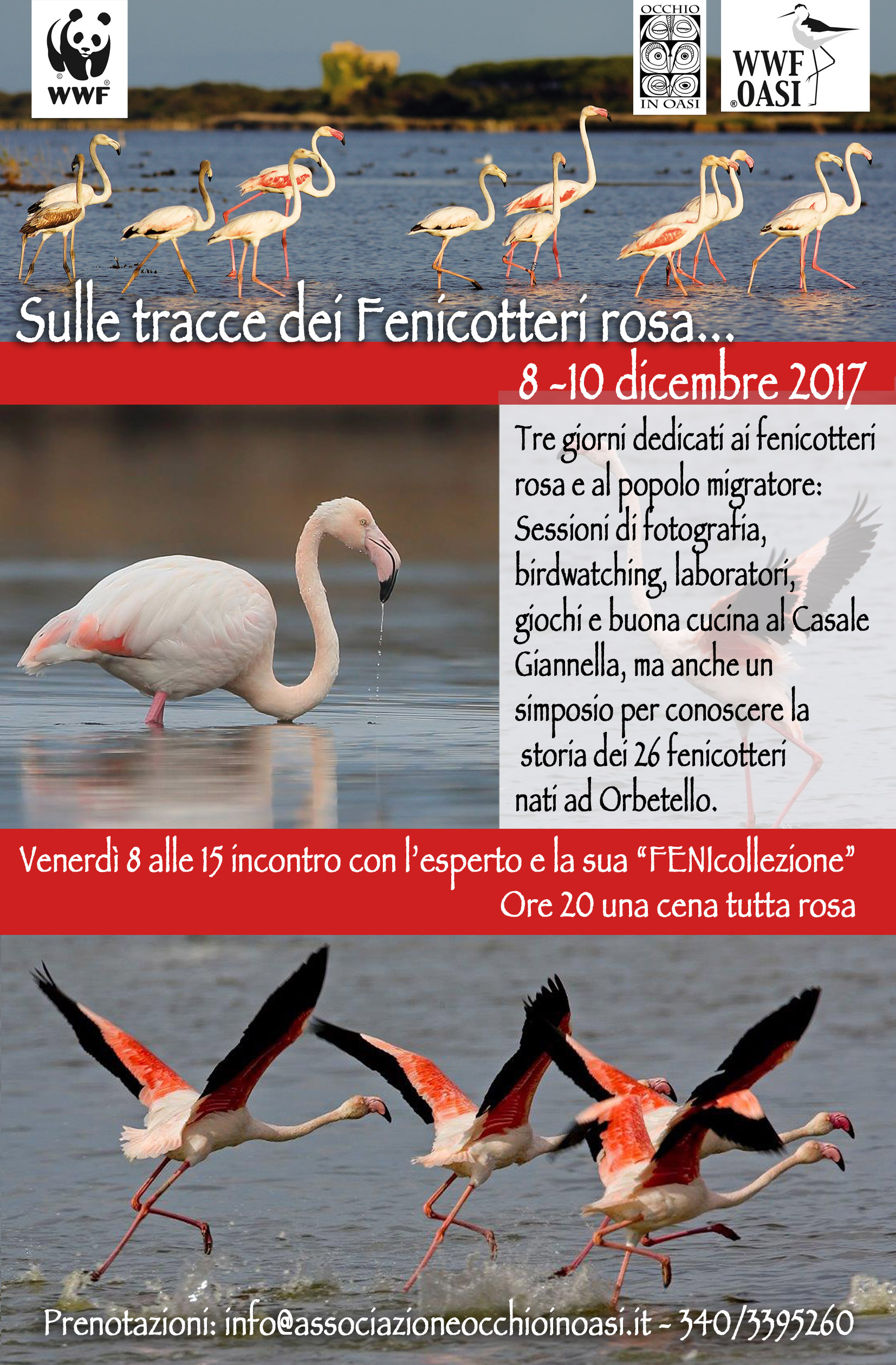 8 - 10 DECEMBER 2017 ON THE TRACKS OF PINK FLAMES
This year for the Immaculate Conception we offer you three days dedicated to the pink flamingo, and to the migratory people: ducks, lemons, herons, spoonbills and more. The autumn light and the colors of the natural scenery allow particularly interesting and intense photographic and birdwatching sessions, especially in the shacks of the WWF Oasis, accessible only with authorized personnel. From Friday 8 December to Sunday 10 the Director of the Oasis, the staff and volunteers of WWF Grosseto will be available to all, fans and newcomers, for a short start-up course, but also to tactical sessions at exclusive times. To encourage the curiosity of everyone at Casale WWF Giannella are also organized workshops and games for children and adults, around a snack or before a genuine dinner. On Friday, in addition to the day "Feni day - Memorial Fausto Corsi II ed.", There will be a meeting with the ornithologist Marco Scutellà, a true fan of flamingos, which will reveal the secrets of the 26 chicks born in Orbetello in 1994, will show us part of his endless collection of flamingo-themed objects, from the comb to the cell phone holder or .......... seeing is believing; in short, a program that seems to lengthen the hours of light, now very scarce.
FRIDAY 8 DECEMBER 2017:
7 am Oasis of Lake Burano photographic session
9 am Orbetello Lagoon Oasis birdwatching
10 am Guided tour of the Oasis of Lake Burano
10 am - 1 pm Casale Giannella Workshops and games on the flamingo
13 hours Casale lunch
3pm Oasis of Lake Burano birdwatching
15-18 hours Casale Giannella Workshops and games on the flamingo
snack and meeting with the expert MarcoScutellà "Stories of wandering flamingos ...
Maremma to the whole basin of the Mediteranneo "and its" Fenicollezione "
20 hours Casale Giannella dinner
SATURDAY DECEMBER 9TH:
7 am Oasis of Lake Burano photographic session
9 am Orbetello Lagoon Oasis birdwatching
9.30 am - 3.30 pm free visit to the Lagoon Oasis of Orbetello
10 am - 1 pm Casale Giannella Workshops and games on the flamingo
1.30 pm Casale lunch
2.30 pm guided tour of the Oasis of Lake Burano
3.30 pm Oasis Lake Burano photo session at sunset
20 hours Casale Giannella dinner
SUNDAY 10 DECEMBER
8.30 oasis of Lake Burano photographic session
9 am Orbetello Lagoon Oasis birdwatching
1.30 pm lunch at the Casale
2.30 pm guided tour of the Oasis of Lake Burano
NECESSARY RESERVATION AT 340/3395260