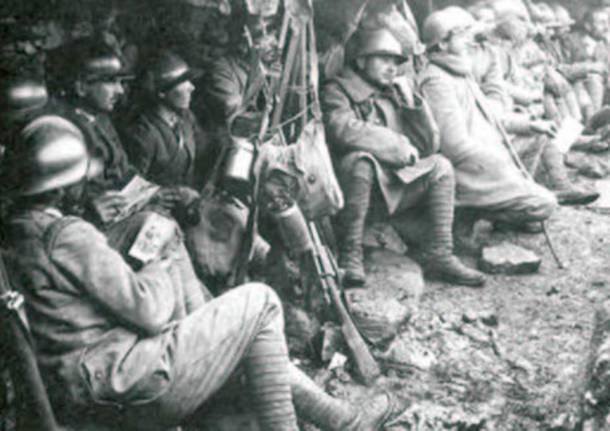 Saturday 19:15 TO DRINK FROM EXPOSURE AREA
WITH PRESENTATION
NEW BOOK OF ORSENIGO ROSSELLA:

THREE WINTERS. SUMMERS PAST FOUR FACE

In the centenary year returns to the subject of the Great War.
Three years after the release of "The Sin", Scarlett Orsenigo returns to the subject of the Great War with a new book entitled "Three winters. Four summers "(Publisher XY.IT). In the year of the centenary, the author gives us a glimpse of that tragedy, starting from the words of the characters listed in the diaries, letters, newspaper articles and stories. Words of one who is gone, swallowed words of individuals for years by the apocalyptic dimensions of a tragedy that caused 10 million victims, losing in that huge black hole individuality, individual existences. Voices of people that four years have hoped for a better day while having only views of the mouth of the enemy machine gun.
The author has dug with the right tension in private documents, trying to give the reader the all-encompassing dimension of the war that created pain not only at the front, in the daily struggle for survival, but also in those who had remained at home waiting for a return, in many cases never occurred.

The characters in "Three winters. Four summers "are trying to reconstruct the family home and find a human dimension by writing love letters, making poignant statements of friendship, making portray in photographs far from the trenches and filled with bitter smiles. Gigi, Dominic, Peter, Virgil, Paul Angelo, Alberto, Carlo. You would want to list them one by one these men so extraordinary in their desire for normality. Men whose humanity has been cleared by the uniform of fighters, often humiliated by cruel arrogance of the official "friends" which made them more vulnerable in the trench.
Each country has paid its toll in human lives and the very lives have not even had a chance to be entered into the grand narrative of the story. "To make it memorable - says Rossella Orsenigo - I thought maybe it would be appropriate to move on from the great history, the victories, the defeats, the kings and generals in the infantry, those belonging to the lower social classes, those not counted nothing, but they felt the same pain, the same feelings of the great Greek heroes, the same emotions that we would try us today before the war. "
Watch event the presentation of the book "Three winters. Four summers "(Publisher XY.IT).